mounted over conveyor magnetic metal sepatator with stainless steel armor clad belting
Product Description
Stainless steel armor clad belting Magnetic separator normally be suspended mounted over the conveyor system to trap and hold the tramp metal from the product carried by the conveyor.
These high-wearing armor clad belting type magnetic iron separater are the most ideal equipments for the tougher scrap metals extraction from course materials.
Installed in a variety of circumstances for de-iron production line to removing harmful tramp ferrous metal contamination from non-ferrous products,this wearable armor clad belting type magnets are Ideal for cleaning the product stream for equipment protection on shredded plastic, being conveyed between shredders and granulartor to protect against costly knife damage and maxmize product purification.
Application belting magnets mounted over conveyor blogs in situations such as :
The overband magnetictramp metal traps are used in mining industry wherein the material is kept moving on.

the magnets are also used in foundries for to clean the sand.

In iron and steel industry overband magnetic separator play a pivotal role.

The overband magnetic separators have also wide applicability in food, plastic and glass electronic,tire,pape,metal,or wood recycling industries.
Featurer for stainless steel armor clad belting magnetic metal separator with :
These units can be installed either inline over the terminal head pulley or transversal to the conveyor. can be well applied with wet, dry, fine or course materials.

The magnets used are either ferrite or powerful rare earth/NdFeB magnets.can customized for different varieties and configuration to meet the client`s various needs.assure the product purity

The separator is housed in stainless steel structure.

They are available in both flat and curved shapes and could be installed either above or below the passage of material flow.
Working Principle for armor clad Beltcrossed Magnetic ferrum separator:
The metal traps magnets generally suspended transversely at around 100/400 mm above Conveyer belts and Vibrating Feeders, or longitudinally at the head of transport and conveying systems
If a higher magnetic force is needed, various extremely strong electromegnetic ferrum/ferrous metal separator can also be supplied ao required,such as:
air-cooled type suspended magnetic metal traps :

oil-cooled type over conveyor magnetic traps
:

fan-cooled type tramp
metal traps
:

FAQ
In order to give you the responsible quotation, pls kindly inform us the following details:
1. What kind of material you are going to deal with?
2.What's the size of the materials?
3. What's the producing capacity you are going to achieve?
Our Services
With well-equipped professional engineers and strong technical force, Ejet have been in this feild for 10 years, we cooperate with superior suppliers (Nord &Schneider)to keep our quality,the test of materials is free if you are interested in our machine, strict quality checked for every machine before packing, engineers available to service machinery overseas, inaddition, there is not only after sales service support, but also technology support, "keep improing, persuing excellence" would be keep forever.
we can design and manufacture complete magnetic metal cleaning systems or simply furnish eddy current drums or any other piece of magnetic separation equipment to meet your requirements such as:
1.WHOLE MAGNETIC METAL SORTING SYSTEM: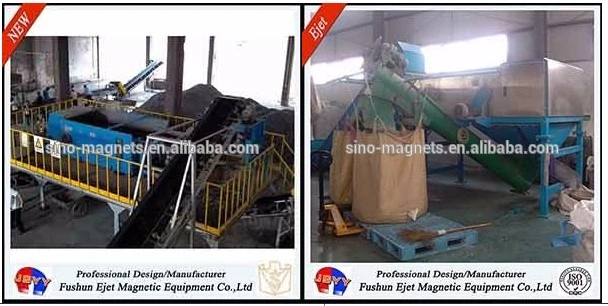 in zorba scraps recycling plant:get cleaneat and tidy aluminum flakes/scrap for furthure reproduction
in plastic recycling industry: extracting tramp metal

get P

ET pure plastic flakes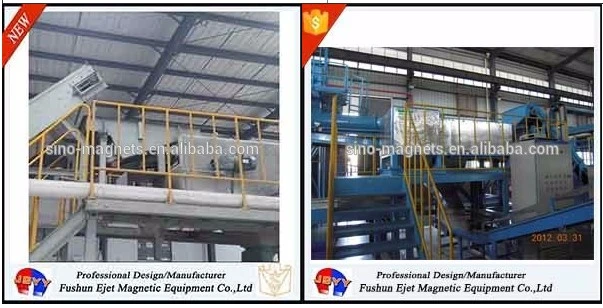 | | |
| --- | --- |
| in end-of-life cars and auto recycling industry | in end-of-life domestic application recycling |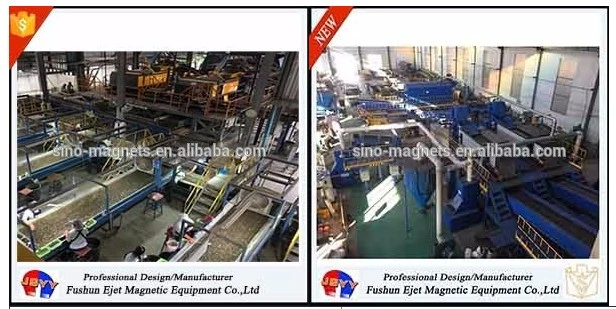 in glass recycling line get the pure glass cullet for bolle manufcature
i

n steel slag scraps recycling processing plant
2.UNIT MGANETIC EQUIPMENTS:
Suspended over-belt electromagnetic separator

Over-belt suspending magnetic separator

Magnetic block

Eddy current nonferrous AL/CU separator

Magnetic drive head pulley

Magnetic drum separator

Magnetic plate

Magnetic cone separator

Grate magnetic separator

Magnetic filter chute

transport and handling system such as belt conveyor/trommel drum screen/vibrator feeders

other sorting type equipment:such as zigzag air classifier

Fushun Ejet Magnetic Equipment Co.,Ltd is a manufacturer of Magntic Equipment with well-equipped professional engineers and strong technical force.

Our main products are eddy current separator, suspended magnetic separator,lifting magnets,etc.

With good quality, reasonable prices,our products are extensively used in solid waste treatment, metallurgical mine, power plants, coal mining and other industries. The products have been exported to the United States, Canada, Japan and Australia.

We welcome new and old customers to contact us for future business relationships and mutual success!

In order to give you the responsible quotation, pls kindly inform us the following details:
1. What kind of material you are going to deal with?
2.What's the size of the materials?
3. What's the producing capacity you are going to achieve?


Most suitable machine would be recomended to you according to your informations.

please Contact with Miss Jasmine Song :

Fushun Ejet Magnetic Equipment Co., Ltd

NO.23 Pacific Industrial City,Economic Development Area
Fushun City,Liaoning Province,China

TEL: +86 24 54012777
MOBILE: +86 15242300557