Company Introduction:
My company engages in developing, producing various kinds of oil purifiers,such as transformer oil purifier,lubricant oil purifier,turbine oil purifier,engine / motor oil purifier and cooking oil purifier, as well as BOD series waste black oil distillation system. We have been in this line for more than 20 years, and we have started our foreign business since 2002. So far this year, we have been 13 years of golden supplier on Alibaba.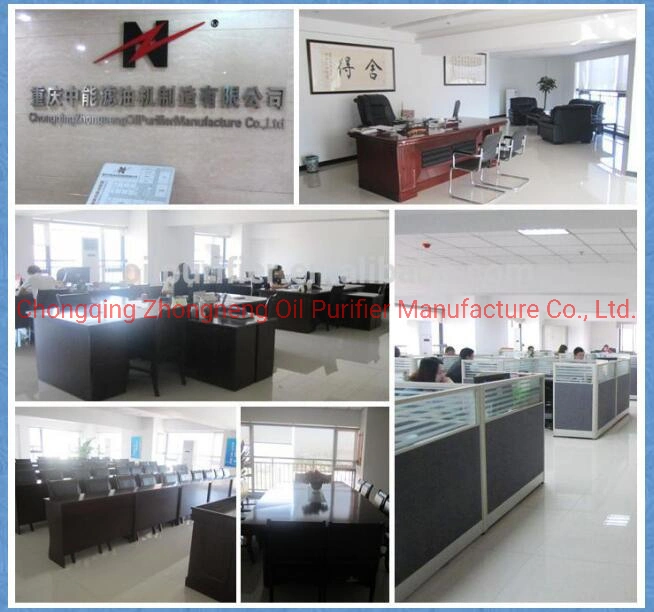 Application:
It is applied to recover and purify various high-precision lubrication oil such as hydraulic oil, mechanical oil, coolant oil, gear oil, heat treatment oil and so on. And also can deal with heavy fuel oil. After treatment by this machine, the oil water content will be less than 80ppm, gas content will be less than 0.1%, filtering accuracy will be less than 5μm, cleanliness will be less than NAS grade6 . It can be used repeatedly in the highly precise hydraulic lubricating system.
Features:
1.Duplex 3D stereo-evaporation, removing the liquid water quickly
2.Adopt μg technology to remove tiny water, such as dissolved water
3.Combination of both network filtration and high polymer material absorbing,to remove impurities from oil
4. Strong capability of breaking emulsification
5. Adopt trapezoidal spiral automatic back flushing system,no need to clean filter element manually
6.Reasonable design, low noise pump, deep purification and low consumable cost.
Item
Model
TYA-10
TYA-20
TYA-30
TYA-50
TYA-100
TYA-150
TYA-200
TYA-300
Unit
Flow rate
L/Min
10
20
30
50
100
150
200
300
Vacuum degree
Mpa
-0.06 ~ - 0.095
Working Pressure
Mpa
≤0.4
Temperature Degree
ºC
0 ~ 100
Power Supply
380V,3phase, 50HZ (or as required by customer)
Working noise
DB (A)
≤75
≤75
≤75
≤78
≤78
≤78
≤80
≤82
Heating Power
KW
18
18
24
30
54
72
92
115
Total electric Power
KW
20
20
27
33
60
80
103
130
Inlet (outlet) Caliber
mm
25
25
25
32
42
42
50
60
Size
cm
150*100*150
150*105*160
150*105*165
160*115*170
175*125*180
190*160*195
190x170x200
210x170x210
Weight
Kg
450
550
600
750
850
1000
1200
1500
AFTER TREATMENT
Moisture (water content)
≤ 80 PPM
Gas Content
≤0.1%
Demulsification
New oil≤15min, running oil≤30mi
Cleanness
≤NAS 1638 Grade 6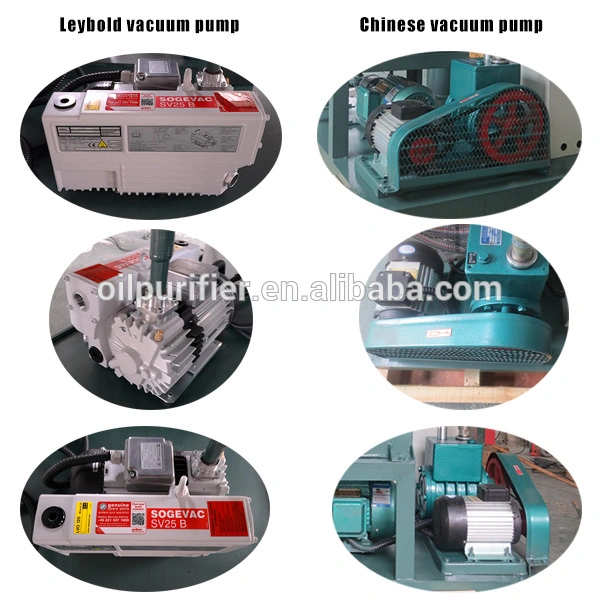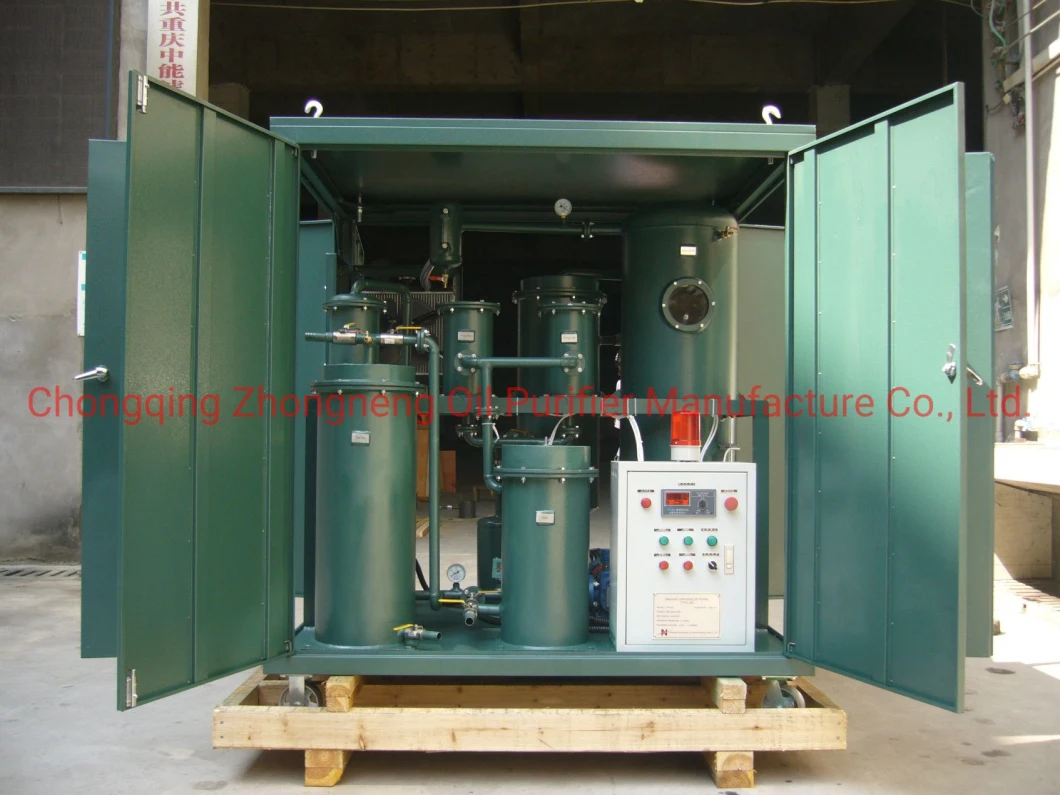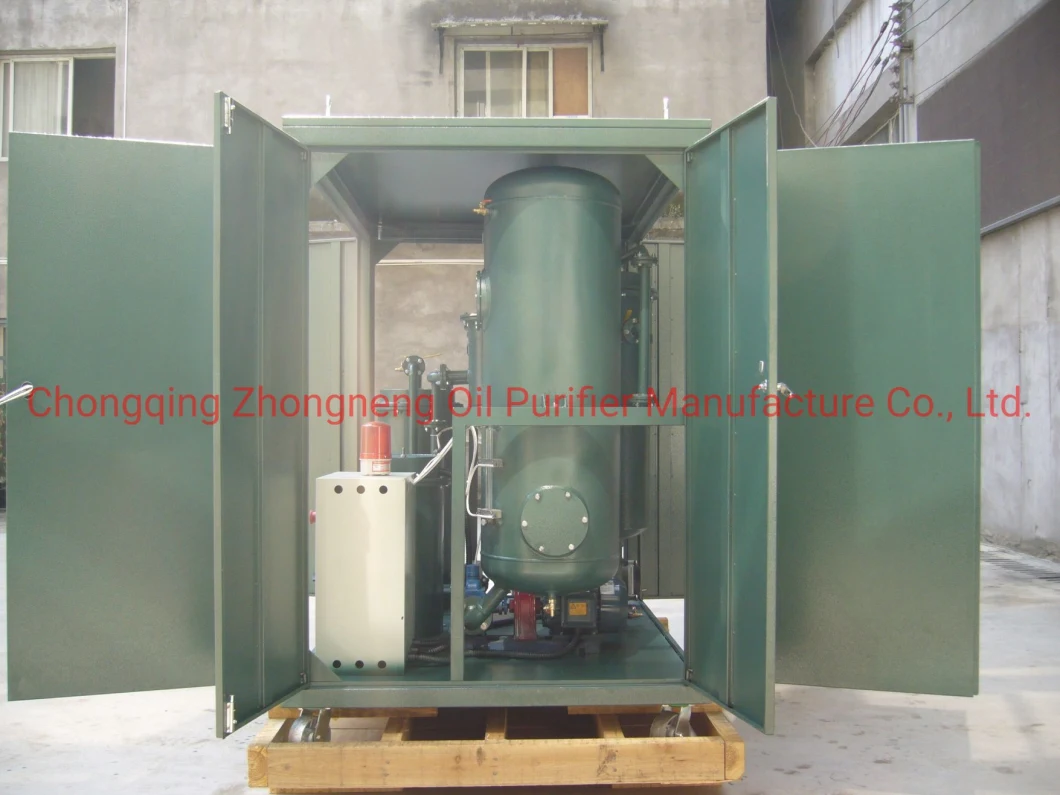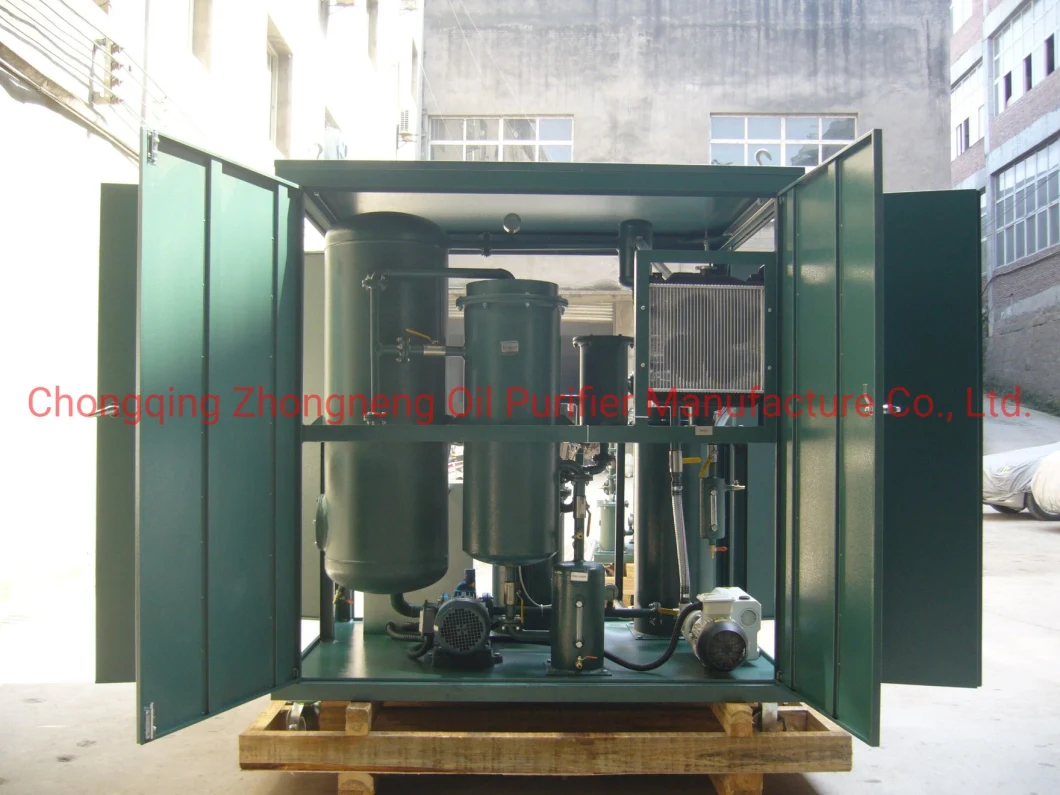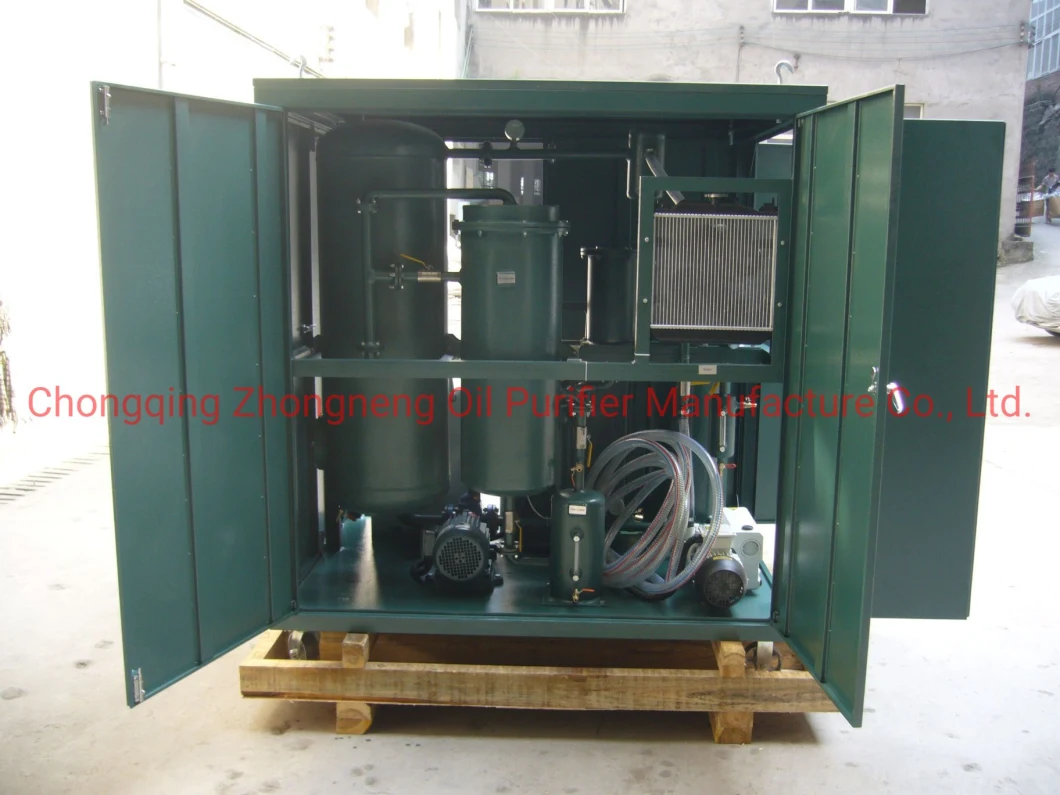 ZHONGNENG'S Main Products/Used Oil Solutions:
For Transformer Oil Filtration and Test:
Series ZY Single-Stage Vacuum Transformer Oil Purifier
Series ZYB Multi-Function Insulating Oil Treatment Equipment
Series ZYD Double-Stage High Vacuum Transformer Oil Purifier
Series ZYD-I Double-Stage High Vacuum Transformer Oil Regeneration System
ZV series Vacuum Pumping Device
Series JY On-Load Tap-changer Insulating Oil Purifier
Series IIJ-II Oil Tester (BDV Tester)
For Lube Oil/Hydraulic Oil Purification:
Series TYA Lubricant Oil Purifier Machine
Series TYC Lubricating Oil Regeneration System
Series TYA-I Phosphate Ester Fire-Resistance Hydraulic Oil Purifier
For UCO / Used Cooking Oil Vegetable Oil Purification:
Series COP Cooking Oil Filtration Unit
For Turbine Oil Reclamation:
Series TY Turbine Oil Purification Unit
Series TY-R Turbine Oil Regeneration System
For Fuel Oil Filtering:
Series TYB Light Fuel Oil Coalescence-Separation Purifier
For Black Engine Oil Regeneration:
Series LYE Waste Engine Oil Recycling System
For Simple Used Oil Purification and Oiling
Series PL Paper Plate Pressure Oil Filter
Series JL Portable Oil Purifier
For Explosion Proof Type Oil Filtration Needed:
Series EFD Explosion Proof Type Oil Filtration System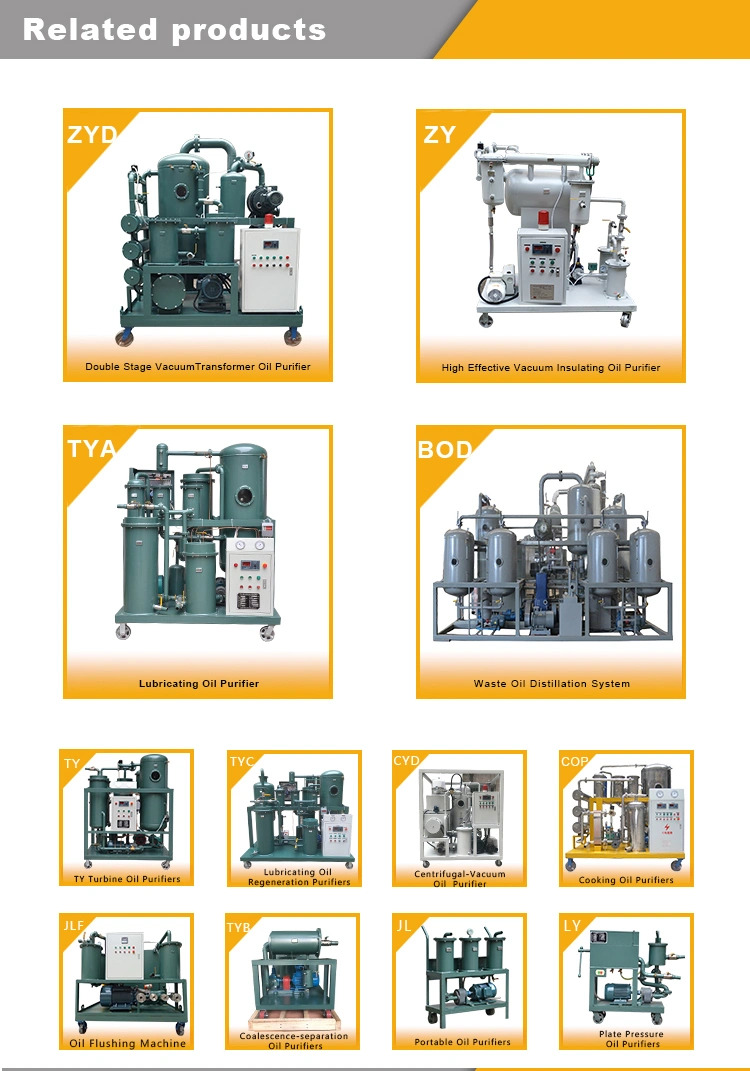 Our Certification: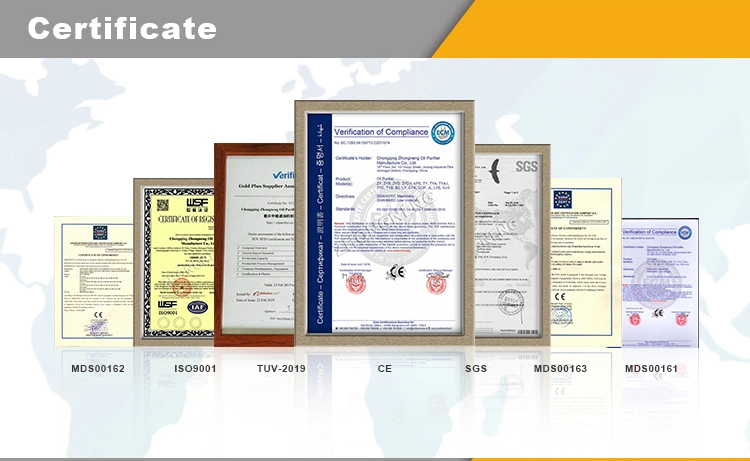 Cooperation Case :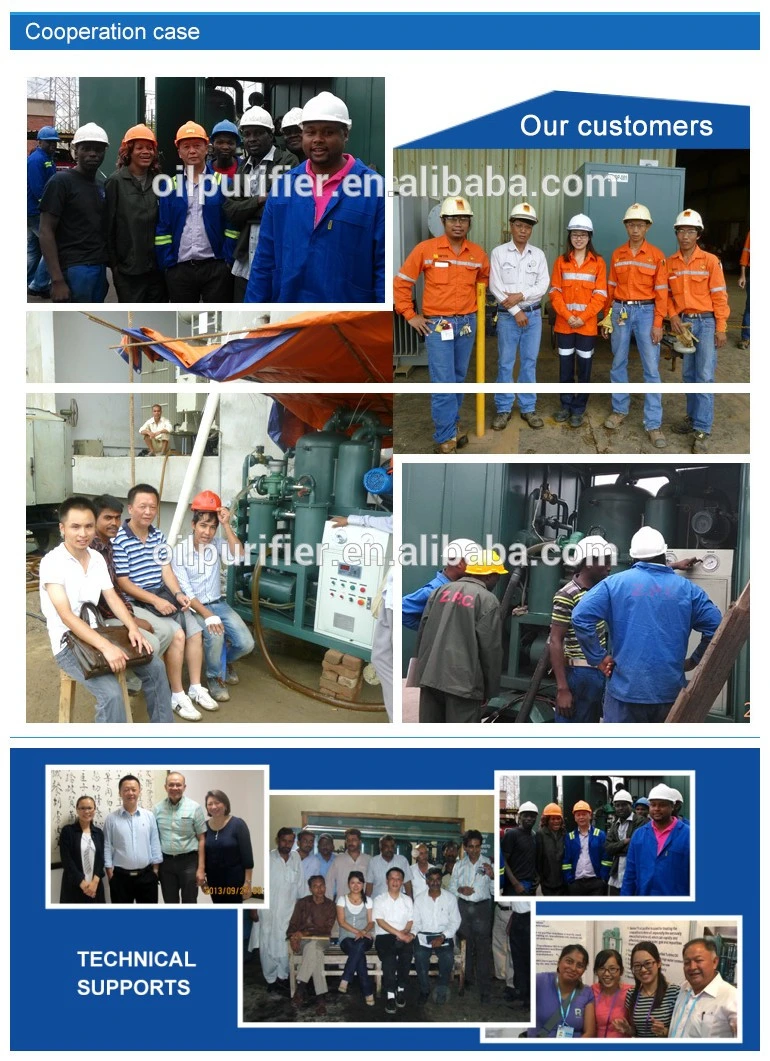 For more details, contact us freely:
china-oil-purifier.en.made-in-china.com
china-oil-purifier.en.made-in-china.com
Tel: 0086-23-68069021
Fax: 0086-23-68069021
Posted by Ruby