Chongqing Hydraulic Oil Filter Machine Vegetable Oil Filter Machine Cooking Oil Filter Machine
Applications
1.This machine is applied to purifying palm oil, cooking oil, vegetable oil, swill-cooked oil, rapeseed oil, sunflower seed oil, olive oil, peanut oil, coconut oil, etc.

2.It can effectively remove water, gas, grease, impurities particulate matters, air, volatile matter (for example ethyl alcohol, gasoline, ammonia) and other contaminants from oil, and strongly demulsify, by which to reduce oil's water content and impurity content, improve oil cleanness.So after the treatment by the machine, a new fresh oil come into being, and the previous used cooking oil/vegetable oil will become limpidity, and fresh quality, and has good quality to produce other products, such as biodiesel, soaps, and so on.

3.This machine consists of electric heating system, vacuum evaporation system, multi-stage filtration system etc. If the oil is for edible food, it can be made of stainless steel type.
Features
1.With the strong ability to filter the impurity, which can filter the particles complete and gradually increasing filtration precision, removing impurities as much as possible.

2.It has the back flush system, which can clear impurities automatically COP.

3.Advanced dielectric condensation device

4.This machine installs the new pressure protector, which can control the temperature automatically; also it can drain water on line by the water-separator device. So it is easy to control this machine.

5.We adopt the high quality filter materials, which has a good function in precision of eliminates impurity is high and the service life is long. Also, it has a large volume for storing the impurities.

6.The unique degas and dewater system: Using the Stereo-Evaporation technical, which can separate the water and gas from the oil quick by the Multi-level water-oil separation technology.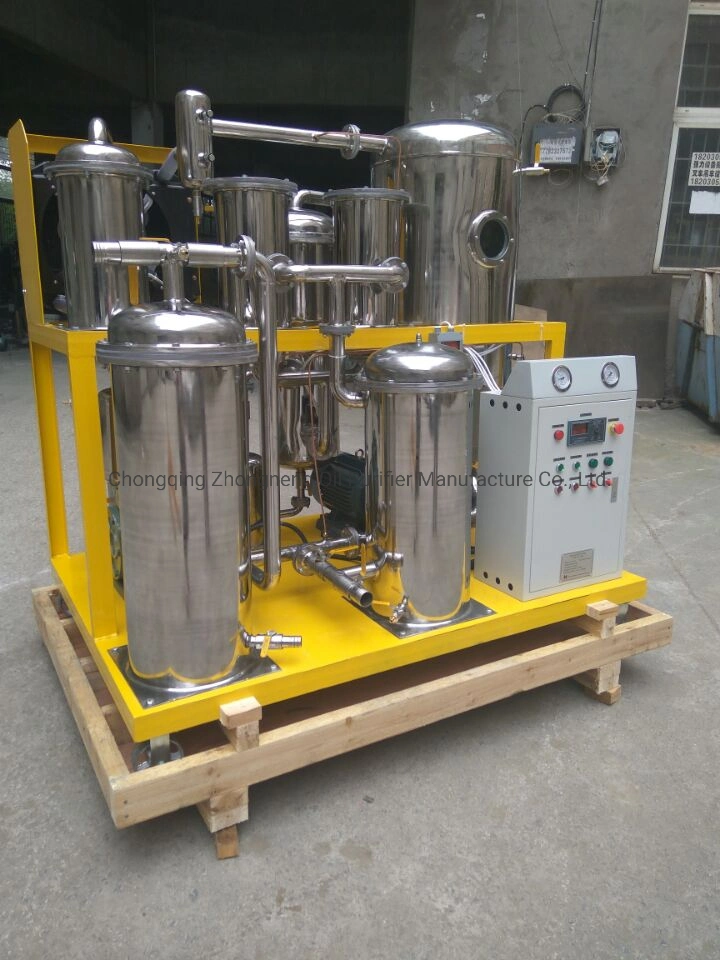 Working Principle
When COP starts working, oil will be sucked into heater by vacuum pressure, then the oil will be heated and flow into primary filter, where the big impurities are separated. then, oil flows into vacuum separator, and flows through a special designed device, which makes per unit volume oil to produce a large surface area, lets the oil exposure in low humidity atmosphere, so the gas and water are separated from oil. the gas and separated water vapour forms as mixed gas, flows through water tank and cooler, condense into liquid and flows into water receiver, the residual gas is exhausted by vacuum pump. Oil flows through oil pump and into fine filter, where the tiny impurities are separated. If the oil is very dirty, or is high water content etc., you can purify the oil circularly for several times, by which to remove the water and impurities completely.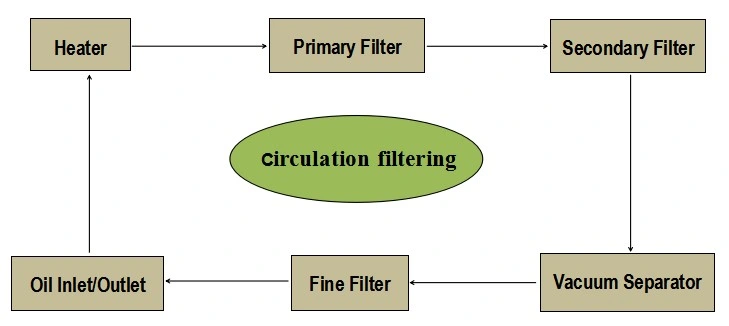 Technical Parameters
Item

Unit

COP-10

COP-20

COP-30

COP-50

COP-100
COP-150
COP-200
COP-300

Flow rate

L/Hr

600

1200

1800

3000

6000
9000
12000
18000

Vacuum degree

Mpa

-0.06 ~ - 0.095

Working Pressure

Mpa

≤0.4

Temperature Degree

ºC

0 ~ 100

Power Supply

380V,3phase, 50HZ (or as required by customer)

Working noise

DB (A)

≤75

≤75

≤75

≤78

≤78

≤78

≤80

≤82

Electric heating Power

KW

18

18

24

30

54

72

90

120

Total electric Power

KW

19.3

19.3

25.65

32

57.1

79

98

130

Inlet (outlet) Caliber

mm

Ф25

Ф25

Ф25

Ф32

Ф42

Ф50

Ф50

Ф60

Size

mm

1260
x900
x1500
1260
x900
x 1600
1500
x1050
x1650
1600
x1150
x1700
1750
x1250
x1800
1900
x1600
x1950
1900
x1700
x2000
2100
x1700
x2100

Weight

Kg

450

550

600

750

850
1000
1200
1500
AFTER TREATMENT

Moisture (water content)

≤ 50 PPM

Gas Content

≤0.1%

Impurities Degree (Filtration precision)

≤1 ~ 5 micron (no free carbon)

Demulsification

New oil≤15min, running oil≤30mi

Cleanliness

≤NAS 1638 Grade 6
Machine pictures (Full stainless steel type for edible oil)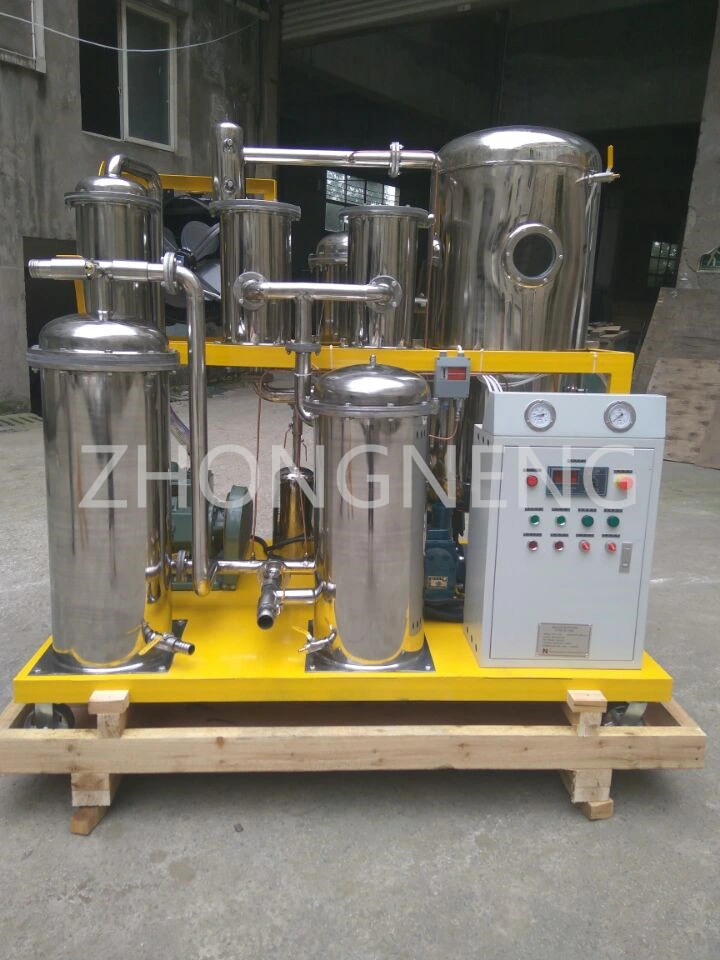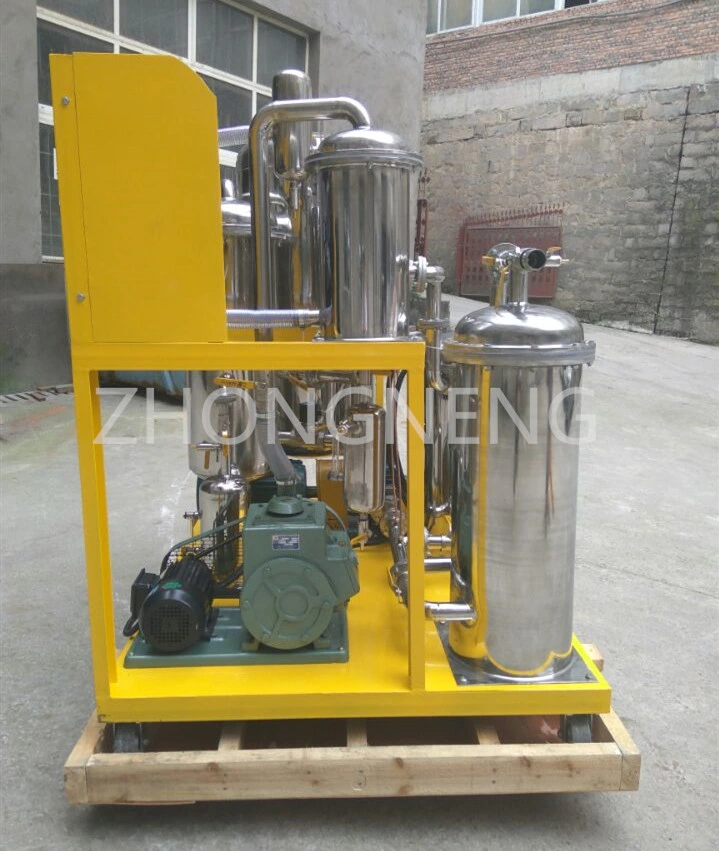 Spare Parts
Oil pump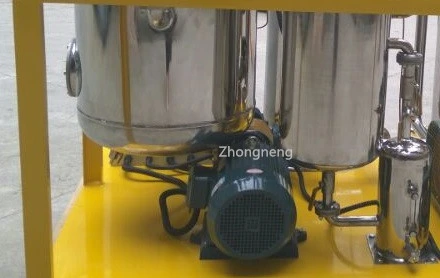 Vacuum pump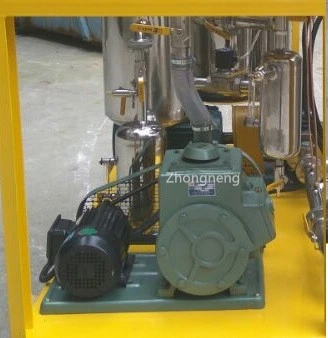 Company information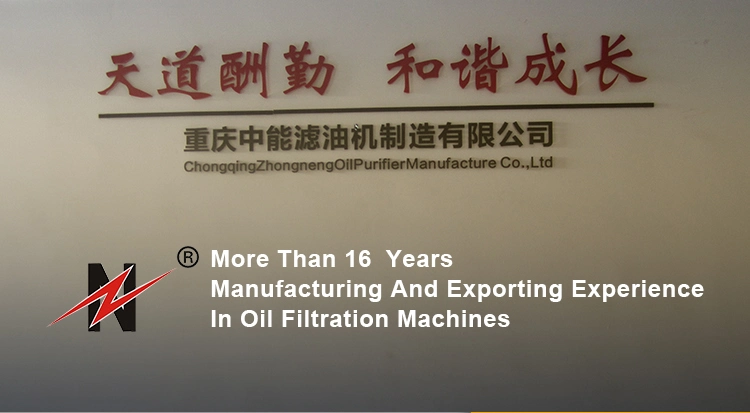 Chongqing Zhongneng Oil Purifier Manufacture Co., Ltd is a leading oil purifier manufacturer in China, which engages in developing, producing, selling a series of oil purifier such as transformer oil purifier, turbine oil purifier, engine oil purifier, lube oil purifier and so on. We practice in this line for fifteen years, so we have a strong technology and gain rich experience. Our products have been exported to many countries, and get a high reputation.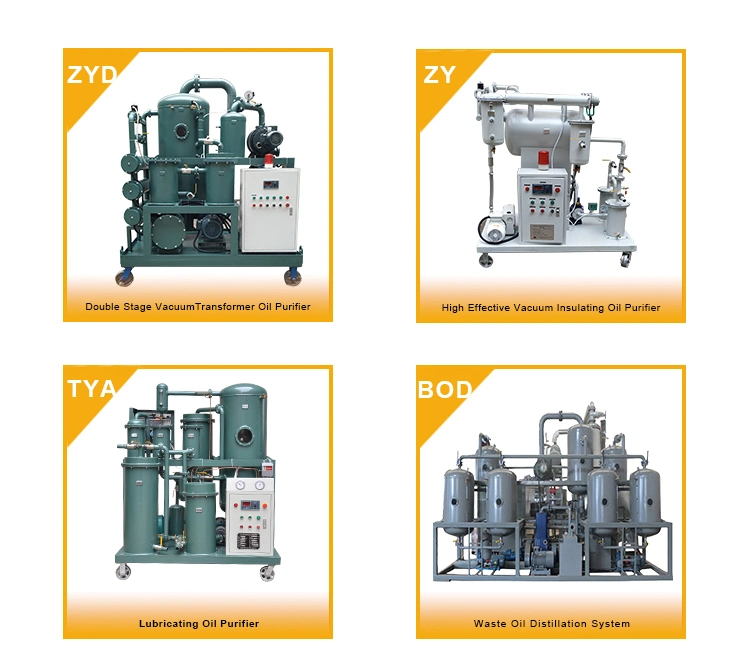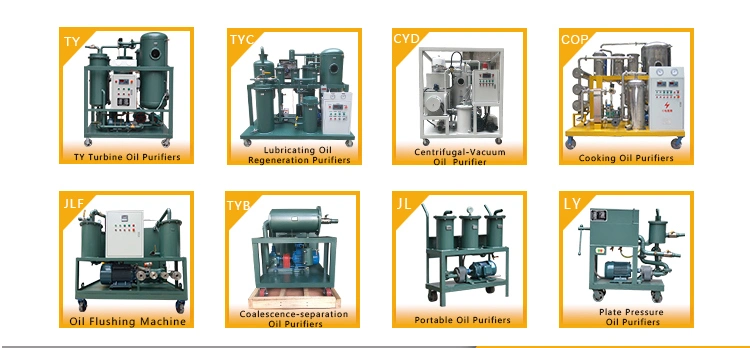 For insulating oil purification and regeneration

1.ZY series for purify the insulating oil (for less than 110kv transforer oil purification or other insulating equipment oil)

2. ZYB series for purify and regenerate the insulating oil (for less than 110kv transformer oil purification and regeneration)

3. ZYD series for purify the insulating oil with a roots pump (for over 110kv transformer oil purification)

4. ZYD-I series for purify and regenerate the insulating oil (for high voltage insulating equipment oil purification and regeneration)

For lubricating/turbine oil purification and regeneration

1.TY series for purify the turbine oil (Mainly on dehydration, demulsification)

2.TYA series for purify the normal lubricating oil

3.TYC series for purify and regenerate the normal lubricating oil

TYB series without Vacuum system (deal with the dirty oil which can not be heated, and for the light oil)

LY series plate pressure oil purifier (remove the particals from the oil, can purify the vegetable oil when use SS material)

JL portable oil purifier ( it's economic with three-stage purification. remove impurities from the dirty oil, best for oil filling and oil drawing)

BOD series oil purifier ( purify the dirty black oil to normal color, over 90% oil yield)

BDV tester for insulating oil
......

For more information, please feel free to contact us.

After-sales Services
1.One year guarantee for product quality. (People damaged parts are charged).
2.Lifelong maintenance and spare parts supply.
3.Free design of fixtures as customers required.
4.Free training for machines installation and operation of the staffs.
For more infomration and detailed product specifications, please contact us!
Please leave us your email and mobile number to send you more photos , brochures and price details. Thank you!
Chongqing Zhongneng Oil Purifier Manufacture Co., Ltd





(oil recovering, oil filtration, oil filter, oil sludge separator, oil regeneration, oil restoration, oil impurities removing plant, oil purifier, oil purification, oil filtration, oil recycling, oil treatment, oil filtering, waste oil disposal, oil reclaiming, waste oil management, energy saving, oil reconditioned, oil reconstituted, oil restituting, )