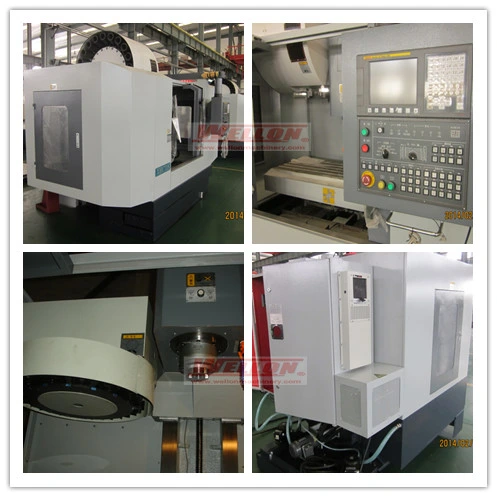 FEATURES:
Strong high-speed machining centers, basic pieces of a highly rigid, strong bearing capacity.
X, Y, Z axis for the wide block guides, z axis four rails support, support span, slide rails has good stability; Hardened and ground, Precision Grinding.
STANDARD ACCESSORIES:
FANUC 0imate MD CNC system. Umbrella plate type A. T. C with 16 tools.
Separated type electronic handwheel. Auto-lubricating.
Standard exterior RS232 interface. Full splash guard.
OPTIONAL ACCESSORIES:
HNC-21/22MD, FAUNC oi MD, GT-150M, GSK-983M or KND-1000M CNC system
Round plate type A. T. C with 20 tools capacity.
Chip conveyor.
| | | | |
| --- | --- | --- | --- |
| SPECIFICATION | UNIT | XHC715 | XKC715 |
| X-axis travel | mm | 1000 | 1000 |
| Y- axis travel | mm | 500 | 500 |
| Z- axis travel | mm | 580 | 580 |
| Spindle nose to table | mm | 140~720 | 140~720 |
| Spindle center to column guide-way face | mm | 520 | 520 |
| High speed feeding of X,Y, axis | mm/min | 10000 | 10000 |
| High speed feeding of Z axis | mm/min | 8000 | 8000 |
| Feeding speed | mm/min | 1~5000 | 1~5000 |
| Size of table | mm | 1600×500 | 1600×500 |
| Max. loading capacity of table | kg | 600 | 600 |
| T-slot NO./width /distance of table | | 5/18/80 | 5/18/80 |
| Spindle max. speed | r/min | 3200 | 3200 |
| Main motor rated power | kw | 11 | 11 |
| Spindle nose taper | | BT50 | BT50 |
| Magazine capacity | pc | 16(20) | |
| Magazine type | | 16 Umbrella | |
| Max. diameter of tools | mm | Φ152/Φ200 | Φ200 |
| Max. length of tools | mm | 300 | 300 |
| Max. weight of tools | kg | 15 | 15 |
| Positioning accuracy | mm | 0.02/0.016/0.016 | 0.02/0.016/0.016 |
| Re-positioning accuracy | mm | 0.012/0.008/0.008 | 0.012/0.008/0.008 |
| Pneumatic press | mpa | 6 | 6 |
| N.W | kg | 6700 | 6500 |
| Overall dimension | mm | 3500×2450×2400 | 3500×2450×2400 |