1.-Semi-Auto French Fries and Potato Chips Deoiling Machine
(Fish restaurant equipment deoling machine prices and deoiler)
1.Automatic discharge, using variable frequency control.The time required for each process is adjusted by the peripheral buttons at any time.
2. Simple operation and continuously producing with low failure rate to minimize staff and labor intensity.
3. Made of stainless steel with beautiful and durable appearance completely meet the health requirements.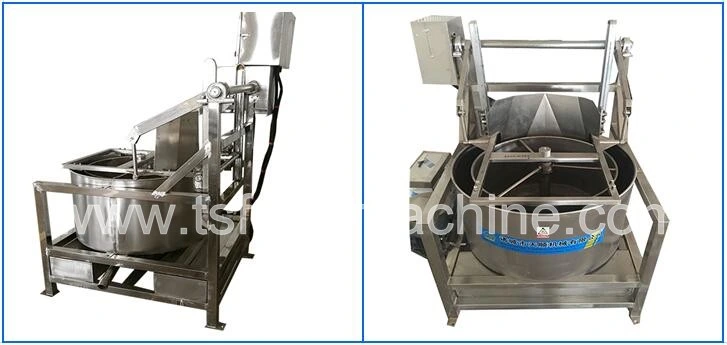 2.-De-oiler applications:
The deoiling machine widely used for fried food such as potato chips, french fries, chicken etc.

3.-De-oiling machine technical Parameters:
1).Deoiling machine for fried potato chips, french fries, chicken ect.
2).Made of 304 stainless steel, corrosion resistant.
3).Auto discharge, both for deoiling after frying and dewatering before frying.
4).Rotating time can be adjusted.
| | | | |
| --- | --- | --- | --- |
| Name | French fries and Potato chips deoiler and deoiling machine | Model | TSTT-80 |
| Size | 1200x1400x1500mm | Power | 3.3kw |

4.-Pictures for the oil removing machine:

5.Company&Workshop:
Zhucheng Tianshun Machinery Co.,Ltd, extablished in 2008, manufacturer of full set food processing machineries in frying equipment, washing cleaning equipment, cooking and blanching equipment, cutting equipment, pasteurization, air-dry equipment, drying equipment, package equipment etc
It is widely used in fried food, conditioning food, surimi products, vegetables, fruits, aquatic products, canned food, meat, soy products, snack food, central kitchen planning and herbal processing and other fields.