Midea CAC Introduction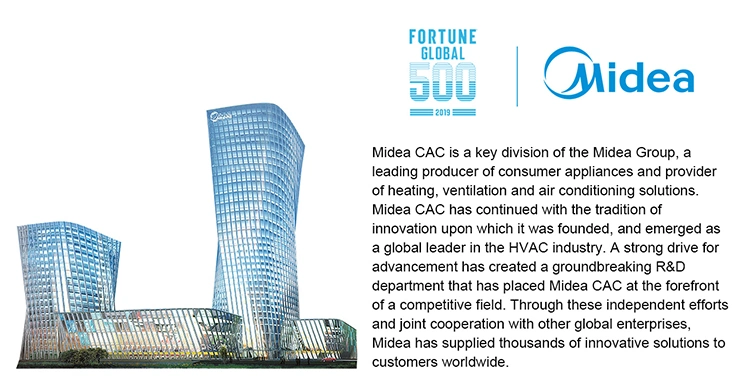 Midea Product Portfolio

Products Show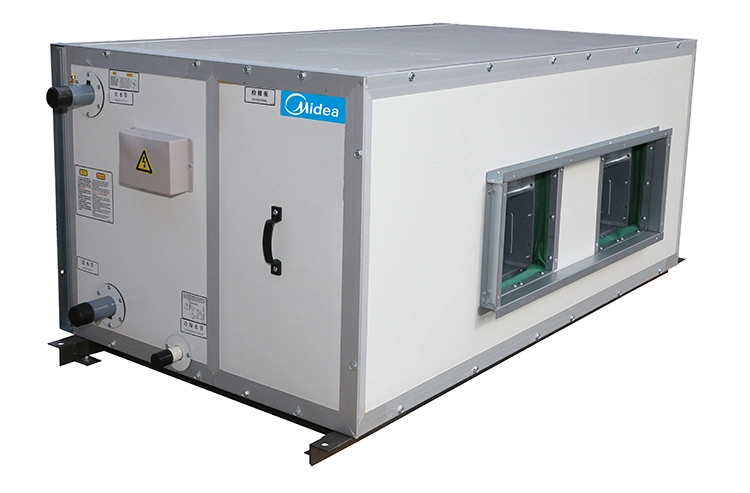 Product Details
Suspended Type Air Handling Unit adopts unitary structure design, more outstanding
cold-bridge free performance, lower air leakage and more elegant appearance. Different
external static pressure (ESP) can be customized to meet different kinds of applications.
| | |
| --- | --- |
| Air volume | 2000-15000m³/h |
| Rated cooling capacity | 11.2-107.0kw |
| Rated heating capacity | 18.6-169.0kw |
| External static pressure | 67-305Pa |
| Fan motor input | 0.37-5.50kw |
| Water pressure drop | 19-59kpa |
| Drain pipe | DN25 |
| Sound level | 58.0-71.8dB(A) |
| Power supply | 380-415V/3Ph/50Hz |
Product Advantages
1.
Orientation
Unit handling orientation Is determined by location of pipe connection wh
i
le facing unit in the
direction of air flow. The unit below is left-handed connection unit, othe
r
wise is right-handed
connection unit.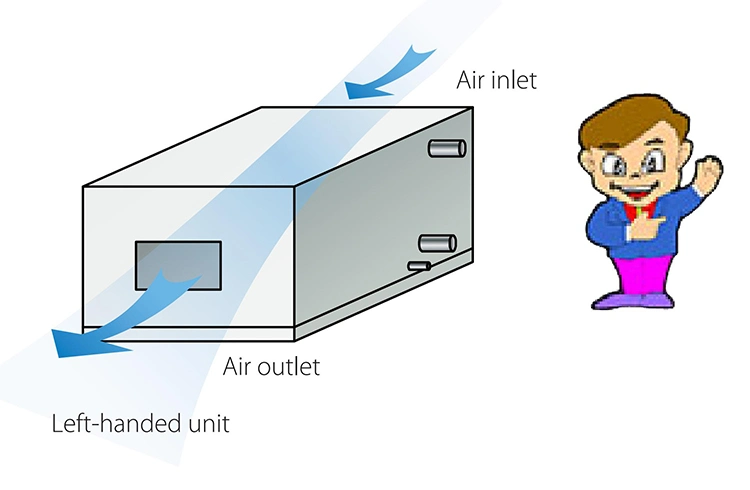 2.
High strength, high reliability
Panels are double skin with injection of high density polyurethane. The outer skin is
anti
-
corrosion color-coated steel sheet. the inner skin is galvanized steel sheet. The unit
cabinet
consists of panels at
t
aching to each other by combining with male and female
aluminum alloy
cards and sealing strip, tighten with concealed bolts.
3.
Outstanding cold-bridge free structure
The density of polyurethane injection is 50kg /m' (thermal conductivity factor Ks0.0224W/m?K).
Unit cabinet is constructed by panels with male
and female aluminum al
l
oy cards and sealing
strip. The service door (or service panel) is plastic-steel frame with polyurethane injection
panel and rubber sealing strip.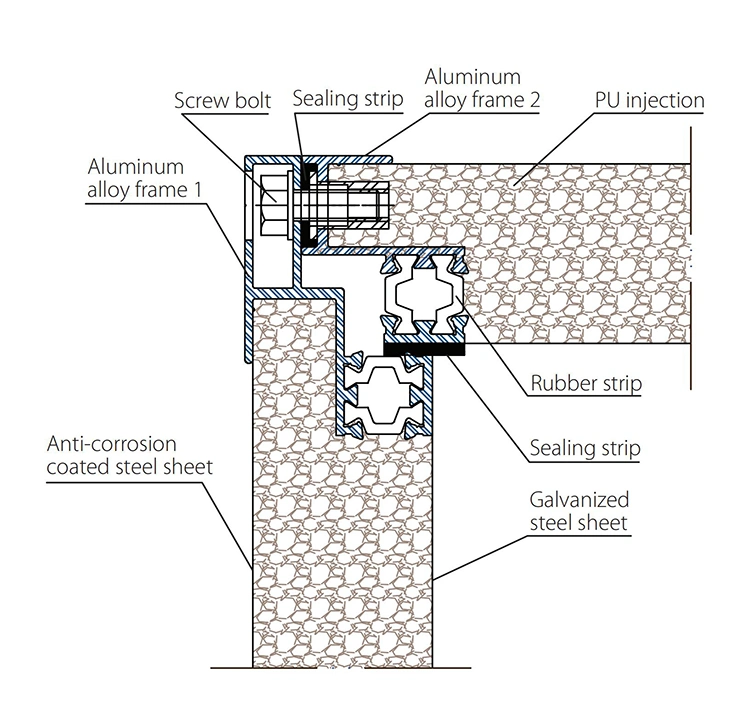 4.
Low air leakage rate
Double skin. panel, unitary structure design, less connecting jo
i
nts, multi sealing strips in the
contact surfaces, around sealing service door/panel, all ensure almost total air can be supplied
to the air-conditioned room. The air leakage fate is less than 0.29%, Units will not sweat when
exterior room temperature Is 27*C, relative humidity is 90%.
Simple structural components
Less at-site work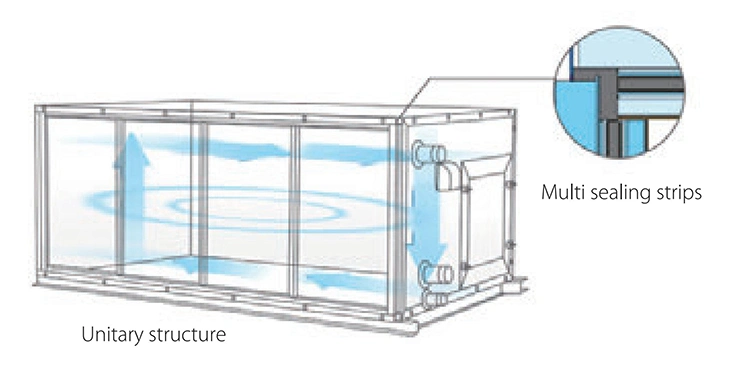 5.High performance heat exchanger
Copper pipe and aluminum fin type heat exchanger, optimal choice of fin spacing and number
of rows.
Fins are coated with anti
c
orrosive layers, assure longer c
o
il
life and lower maintenance cost.
Optimal water ci
r
cuits design, increased heat exchange eff
i
ciency and decreased water
resistance, improving unit performance e
f
f
i
ciency.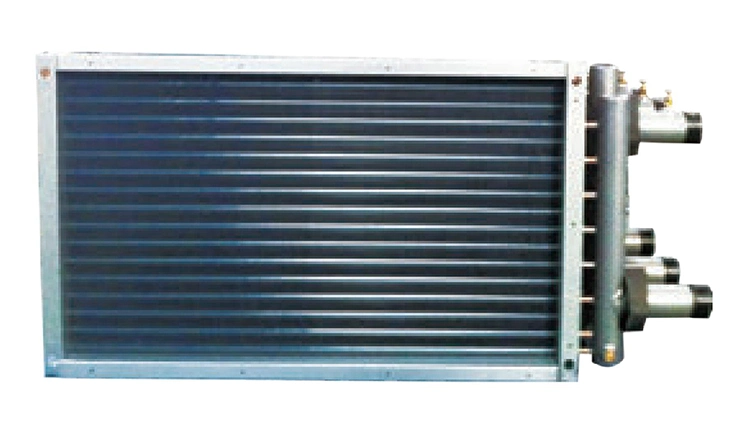 Projects Show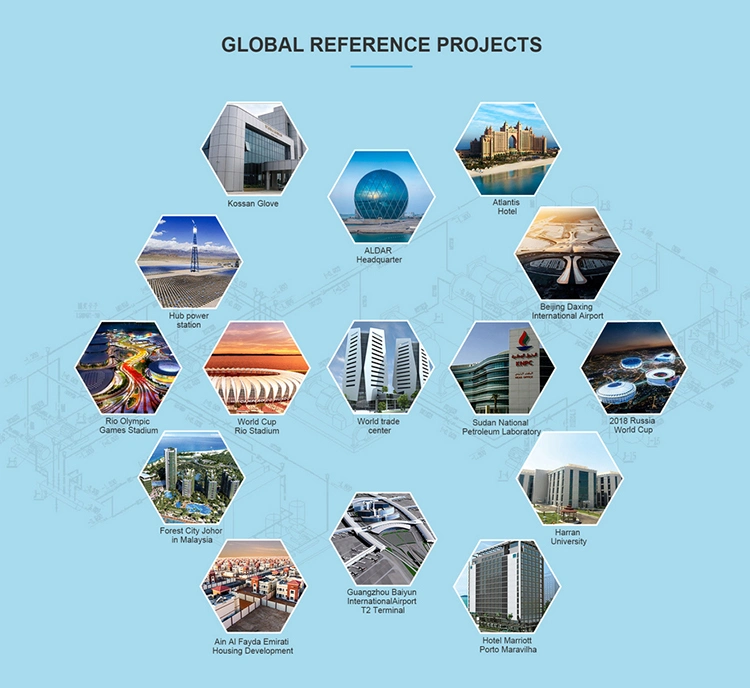 About Beijing Midea Overseas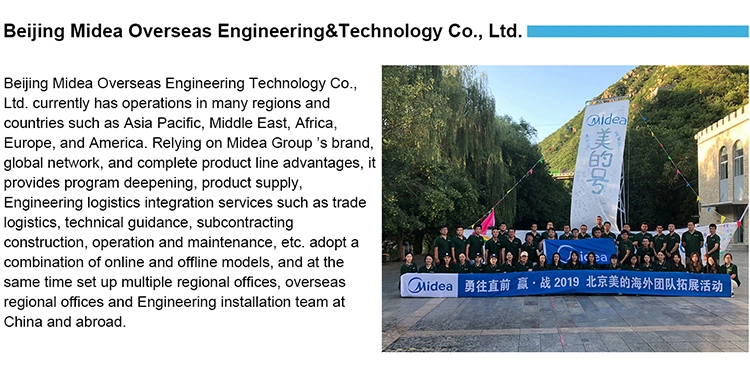 Our Company Advantages