Milk Chilling Tank Used For Cow Farm


1. Cooling fresh cow milk to exent the storage time
2. Temperature controlled automaticaly
3. Cooling fresh milk to 0~4 degree in short time
4. USD world famous compressor brand such as copeland.

Milk cooling tank can be devided into vertical milk cooling tank and horizontal milk cooling tank according to the tank capacity. For small capacity, such as 500L, 800L and 1000Liter capacity milk cooling tanks, we usually make it into vertical milk cooling tanks. For the cooling capacity more than 1500L, we usually make it into horizontal milk cooling tanks.

Usage of milk cooling tank
Vertical milk cooling tank and Horizontal milk cooling tank can be used to storing and Cooling fresh raw milk on farms, as well as fluid in small milk depot, dairy plant, food, feed, as well as Pharmaceutical plants.

Milk cooling tank structure
The milk cooling tank is mainly composed of the body, agitator, cooling unit and electric Control cabinet. The milk cooling tank body is made of stainless steel, with precision Polish, good looking, easy to clean and corrosion resistance.
Outside the inner layer of the milk cooling tank is a kind of jacket as the picture below. This kind of dimple jacket will send the coolant to all part of the milk cooling tank is shortest time.
Out side this dimple jacket, there is a layer of heat preservation. This insulation layer will help to keep the milk in a low level.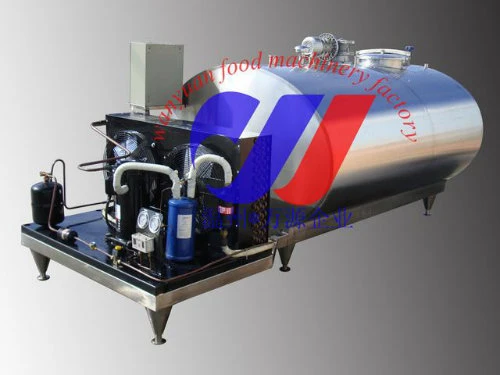 Here below is the milk cooling tank specification
Milk cooling tanks specification

Model

Capacity(L)

Cooling capacity(W)

Stirring speed ( R/MIN)

Match power(KW)

dimension(L*M*H)

MCT-0.5

500

3500

36(24)R/MIN

1.5

2200*1350*1150

MCT-1

1000

6900

36(24)R/MIN

3

2750*1150*1500

MCT-1.5

1500

10000

36(24) R/MIN

4

3000*1350*1550

MCT-2

2000

13000

36(24)R/MIN

5

3200*1500*1600

MCT-3

3000

17800

36(24)R/MIN

6.5

3500*1650*1700

MCT-5

5000

34000

36(24)R/MIN

13

4000*1950*2000

MCT-6

6000

34000

36(24)R/MIN

13

4200*2200*2100

MCT-8

8000

42000

36(24)R/MIN

18

4800*2400*2400

MCT-10

10000

65000

36(24)R/MIN

24

5000*2600*2500